Global Café, Avery Point's interdisciplinary learning community, announces "2020 Vision," a series of discussions designed to lend clarity and encourage communication and empathy as we close out this very strange year. "2020 Vision" begins with focus on the November presidential election, as we work to strengthen democracy through the use of deliberative practices:
"Are You Emotionally Prepared for the 2020 Presidential Election?"
Thursday, October 15th 5-7:00 pm click here to register
      or
Monday, October 19th 5-7:00 pm click here to register  (repeat sessions)
Join this reflective, structured dialogue aimed at softening our divisive and derisive election-time behaviors.  UConn only; registration is limited!  Contact Laurie Wolfley for information
"2020 U.S. Elections: Got Questions?"
Wednesday, October 21st 6pm
Join this "Ask Me Anything" session in which UConn Avery Point and Stamford Political Science professors respond to questions like What's the Electoral College? Are political surveys accurate? What is a swing state, and why are they important?  Submit questions in advance to Frank Griggs.  UConn only.  Contact Laurie Wolfley for information.
"Policing: What Should We Do to Ensure Equal Justice and Fair Treatment in Our Communities?"
Wednesday, October 21st 6-8 pm or Thursday, October 29th 4-6pm (repeat sessions)
Please also join us as the New England Centers for Democratic Initiatives present two cross-campus virtual forums this month in the lead up to the election.  Contact Laurie Wolfley for information.
Keep an eye out for details on a post-election dialogue facilitated by Political Science professor and past UConn President Susan Herbst in the weeks following the election.
Please contact Laurie Wolfley for more information about these events and Global Café.
– – – – – – – – – – – – – – – – – – – – – – – – – – – – – – – – – – – – – – – – – – – – – – – – – – – – – – – – – – – – – –
Avery Point Global Café, an interdisciplinary learning community that focuses on global citizenship and resilience in this time of turmoil, is co-sponsoring a number of events related to this year's One Book One Region book choice, Crazy Brave, a short and very accessible memoir by Joy Harjo.  Harjo is currently the U. S. Poet Laureate (the first Native American to hold that distinction).  In this transcendent memoir, grounded in tribal myth and ancestry, music and poetry, Joy Harjo details her journey to becoming a poet.  Here are a few related events:
Poetry Walk, Now through November 2—Read poetry by Joy Harjo while strolling the paths around the Avery Point Branford House.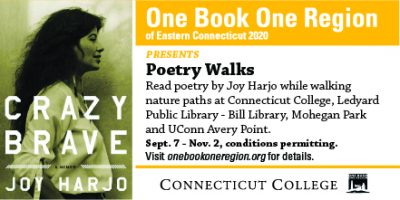 Book Talk Tuesday, September 8, from 6:30–7:30pm—Join Global Café and the Groton Public Library as we discuss the memoir and a few of Harjo's poems, which are featured on the UConn Avery Point Poetry Walk.  This discussion will be facilitated by a small group of talented students from the Marine Science Magnet High School in Groton and Laurie Wolfley, who teaches English and helps coordinate the Global Café at Avery Point.
Author Visit, September 14—Join us for an evening with Joy Harjo beginning at 7:00 pm.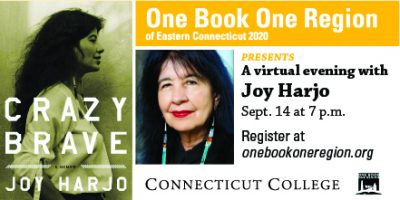 Community Memoir Project, ended September 15—Residents of New London County are invited to participate in our community memoir project, A Life in One Line, in which you submit a one-sentence memoir to be compiled in a self-published book. Memoirs are due September 15.

Harjo's prolific and lyrical poetry resonates throughout her memoir, and many of her poems are on display on the Avery Point campus.  A handful of Avery Point and Marine Science Magnet High School students worked to interpret some of those poems, and they've provided the attached copies of the poems with a few discussion questions to inspire readers to think creatively about the works: