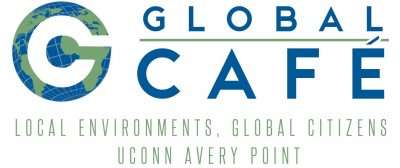 UConn Avery Point Global Café, the Avery Point Director's Office, and UConn's Office for Diversity and Inclusion invite you to commemorate Martin Luther King, Jr., by participating in these virtual events: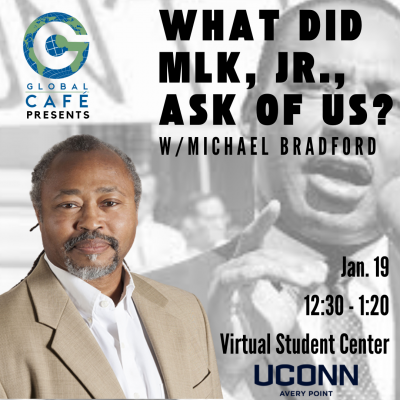 January 19th, 12:30-1:15pm, "What Did MLK, Jr., Ask of Us? Striving to Meet his Ideals on Campus"—Join Michael Bradford, a renowned playwright who was a student at Avery Point, later taught drama here, and is now UConn's Vice Provost for Faculty, Staff, and Student Development.  He and the Global Café coordinators will lead a virtual discussion using MLK's "Letter from Birmingham Jail" as a launching point as we reflect on how we're striving to live King's dream in our own personal and professional lives.  Join the event; contact Laurie Wolfley for details.
Please also tune in to other virtual ODI events commemorating Martin Luther King, Jr.:
Jan. 17th, 9:00-3:00 pm, MLK Day – UConn Day of Service.

Jan. 18th, 2:00-3:30pm, "National Day of Racial Healing Presentation"—Feminista Jones, a feminist writer, public speaker, community activist, and semi-retired social worker, will offer a virtual presentation and Q&A session.  Her work centers Black American culture, critical race theory, intersectionality, women's health and well-being.  Register for the event.

Jan. 20th, 5:00-7:00pm, "2022 MLK, Jr., Living Legacy Convocation TED Talks"—Speakers representing our UConn community from all locations will contribute to a series of very brief TED talks invoking MLK's wisdom and values.  Register for the event.
See UConn's Office for Diversity and Inclusion webpage for more information on these university-wide events.