Empathy and Activism:
Growing Awareness,
Building Community,
and Avoiding Burnout
---
Upcoming Events
FRESH New London Campus Visit
Date: Tuesday, March 28th at 3:30-4:45 PM
Location: ACD 303
Find Out What FRESH New London is doing in your community! Learn about food justice — connecting communities, growing food, and empowering youth — and then participate in a seed bomb workshop: wrap seeds in a blanket of earth. Later, use the "bomb" to plant your own lush garden!
For details, contact sarah.shea@uconn.edu
---
Past Events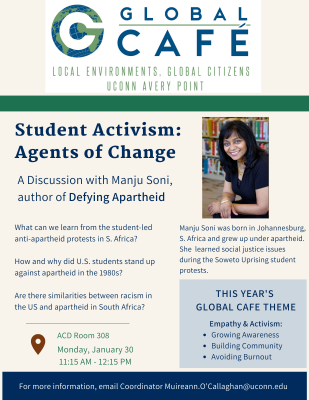 Student Activism: Agents of Change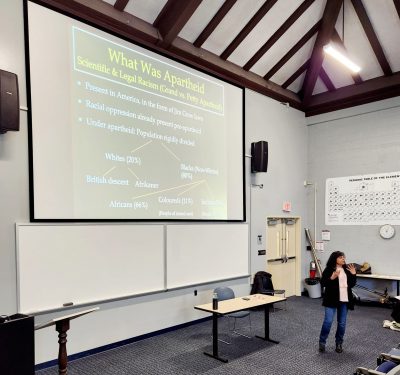 Date: Monday, January 30th at 11:15 AM – 12:15 PM
Location: ACD 208
A discussion with Manju Soni, author of Defying Apartheid. Manju Soni was born in Johannesburg, South Africa and grew up under apartheid. She learned social justice issues during the Soweto Uprising student protests. What can we learn from the student-led anti-apartheid protests in South Africa? How and why did U.S. student stand up against apartheid in the 1980s? Are there similarities between racism in the U.S. and apartheid in South Africa?
For recordings of the event, see below:
Slide presentation and talk on Apartheid in South Africa and student activism.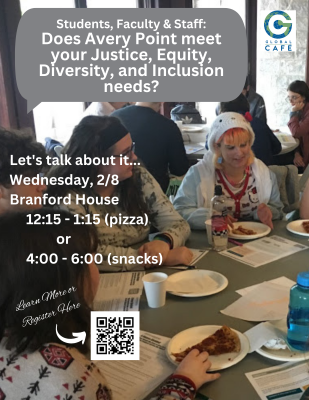 Avery Point Community-wide DEI Dialogues
Dates: Wednesday, February 8th at 12:15 PM – 1:15 PM AND Wednesday, February 8th at 4:00 PM – 6:00 PM
Location: Branford House
Speakers/Facilitators: Erin Scanlon and John Sarrouf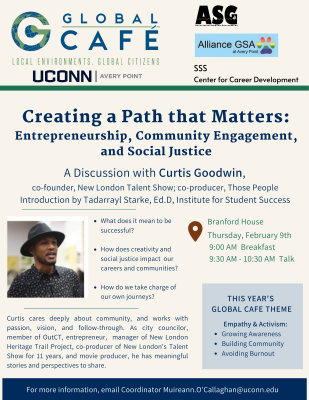 Creating a Path that Matters: Entrepreneurship, Community Engagement, and Social Justice
Date: Thursday, February 9th at 9:00 AM – 10:30 AM
Location: Branford House
A discussion with Curtis Goodwin: co-founder of the New London Talent Show and co-producer of Those People. Introduction by Tadarrayl Starke, Ed.D, Institute for Student Success. Breakfast served at 9:00 AM with talk to follow at 9:30 AM.
Curtis cares deeply about community, and works with passion, vision, and follow-through. As city councilor, member of OutCT, entrepreneur, manager of New London Heritage Trail Project, co-producer of New London's Talent Show for 11 years, and movie producer, he has meaningful stories and perspectives to share. What does it mean to be successful? How does creativity and social justice impact our careers and communities? How do we take charge of our own journeys?
Sponsored by Global Cafe, Associated Student Government (ASG), Alliance GSA at Avery Point, Student Support Services (SSS), and the Center for Career Development.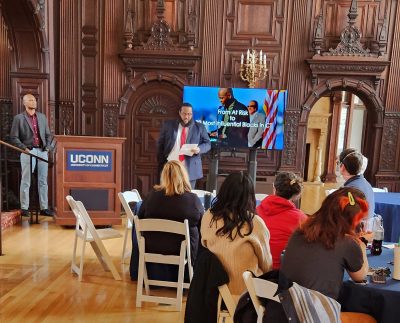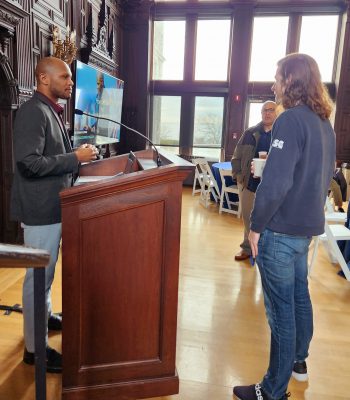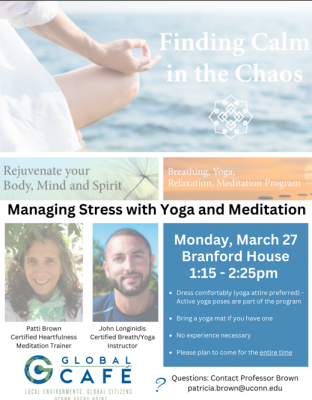 Finding Calm in the Chaos: Managing Stress with Yoga and Meditation
Date: Monday, March 27th at 1:15 PM – 2:30 PM
Location: Branford House
Speaker/Facilitator: Patti Brown and John Longinidis
Rejuvenate your body, mind, and spirit through this breathing, yoga, relaxation, and meditation program. Active yoga poses are part of the program, so make sure to dress comfortably (yoga attire preferred) and to bring your own yoga mat if you have one. No experience necessary! Please plan to stay for the entire event.
If you have questions, please contact patricia.brown@uconn.edu