The fall 2017 Global Cafe program will focus on "Dialogue in Democracy," providing students opportunities to participate in structured dialogue about controversial topics. This program is a continuation of spring 2017 focus on "Civic Responsibility, Discourse, and Action," where faculty gained reflective dialogue methods and tools to mediate social justice and environmental topics and concerns. The Global Cafe upholds civil discourse as foundational to liberal arts education and training, and thereby is committed to elevating these practices in all our teaching and learning activities.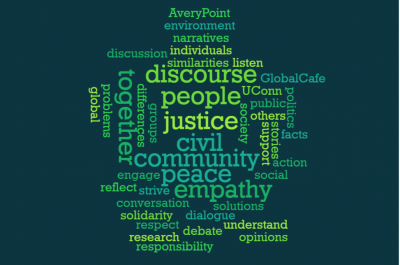 "Dialogue in Democracy" events:
"CHARLOTTESVILLE AND THE CONFEDERATE CONTROVERSY," Tuesday, September 12th, 1:30-2:30 in the Branford House, West Room. This dialogue will be limited to 10 students and will include additional chairs in the round for students, faculty and staff to listen in.  Classroom resources on dialogue will be made available online after this event and are adapted from Essential Partners, Center for Civic Reflection, and National Issues Forums, and in collaboration with the UConn Humanities Institute.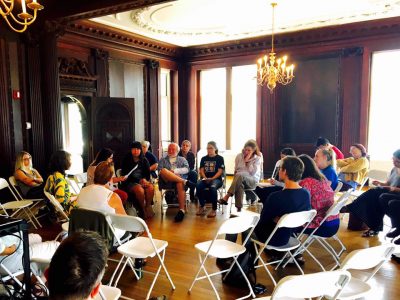 Students, faculty, and staff participate in a structured dialogue on "Charlottesville and the Confederate Controversy," Sept. 12, 2017, Branford House, Avery Point
"THE FUTURE OF SCIENCE IN DEMOCRACY, " Tuesday, Oct. 10, 1:30-2:30, Branford House, West Room. The intent of this event is to provide a space for students, faculty, and staff to express individual perspectives and concerns through a structured dialogue format.  This dialogue focuses on:
The role of 

science

 

in

 people's everyday lives
Scientists' role 

in

 public policy
Reactive/proactive responses to natural disasters
UCONN METANOIA 2017:  "TOGETHER: CONFRONTING RACISM"  
Two Events:
Live Stream: "RECASTING THE CONFEDERACY: MONUMENTS AND CIVIL WAR MEMORY" KICK-OFF EVENT FOR THE HISTORY DEPARTMENT DRAPER SERIES
Mon, Nov. 6th | 4-6 PM | Avery Point Auditorium
Event open to the public.
Live-Stream Panelists:
—David Blight, Class of 1954 Professor of American History, Yale University; Director, Gilder Lehrman Center
—W. Fitzhugh Brundage, William B. Umstead Distinguished Professor, University of North Carolina
—Nina Silber, Professor of American History, Boston University
—Manisha Sinha, Draper Chair in American History, University of Connecticut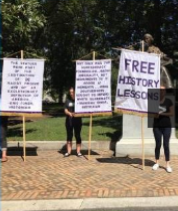 Dialogue Event: "KNEELING AND THE NATIONAL ANTHEM: PATRIOTISM, POWER AND RACE" – A GLOBAL CAFÉ "DIALOGUE IN DEMOCRACY" SERIES EVENT
Tues, Nov. 7th | 12:30-2:30 PM | Student Center
Free football-themed food!  Funded by Together.
Event open to UConn students, faculty and staff
In the aftermath of players in the National Football League kneeling and locking arms in solidarity on the field during the playing of the national anthem before a game, we will explore the distinction between personal
identity and American identity and between patriotism and nationalism. We will examine the connection between race and power and the roots of inherent structural racism in our society.